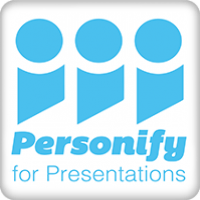 Designed For:
F200SR300
Windows 10 , Windows 8 , Windows 8.1
Languages: English
Personify for Presentations
Like a virtual green screen, Personify for Presentations removes your background to project your persona into any presentation or demo, letting you present like you're there.
Personify for Presentations works alongside your existing conferencing software to take your presentations, demos or video content to the next level. Simply project your persona onto your content, share your desktop and you're ready to go! Present live or record your presentation for easy sharing later.