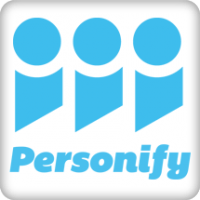 Designed For:
F200SR300
Windows 10
Languages: Chinese, English, French, German, Italian, Japanese, Portuguese, Russian, Spanish
Personify for Collaboration
Personify is a truly immersive video calling platform, perfect for chatting with friends or collaborating with co-workers. Operating like a virtual green screen, Personify brings people together in a shared virtual space to collaborate on projects, share documents, watch movies or sporting events together online or play online games.
When you download Personify, you will automatically receive Personify Cameo, which allows you to remove your background and replace it with the background of your choice while in any other video chat tool such as Skype, Hangouts or Webex.