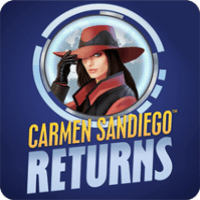 Designed For:
F200SR300
Windows 10
Languages: English, French
Carmen Sandiego is back with a bang, enhanced by the new Intel® RealSense™ 3D camera. She's got a whole new posse of V.I.L.E. henchmen, and nothing is safe while they're on the loose. They're making off with masterpieces and raiding treasures from the world's ancient wonders. They must be stopped!
As you search for these villains, travel the world, from Paris to Polynesia. Discover hundreds of fun facts about world geography and culture. And steel your nerves for the final thrilling showdown!  Get in the game and use gesture control to get into the action. Pilot a drone plane with your hands, play a hacking mini-game with an interface that tracks your fingertips, and more!