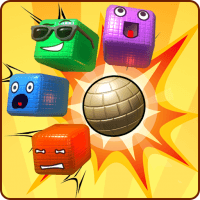 Designed For:
R200 F200SR300
Windows 10 , Windows 8.1
Languages: English
Boom Ball is a lighthearted game for Intel® RealSense™  Technology that mixes tennis, Breakout and gratuitous explosions.
Use hand motions to throw and bounce balls to smash all cubes and blow up all bombs in 55 different levels.
Guest starring: Explosions! Portals! Multiballs! More explosions! Ducks!
Join the fun and go ballistic with Boom Ball for RealSense™!